23 Views
2 Ingredient Watermelon Mint Juice Recipe
Watermelon mint juice is a refreshing and healthy drink that's perfect for a hot summer day. This recipe is easy to make and requires just a few ingredients.
This post may contain affiliate links. As an Amazon Associate I earn from qualifying purchases at no cost to you. See my Affiliate Disclosure to read my policy and more about affiliate links.
Table of Contents
Why You'll Love this Watermelon Mint Juice Recipe
This watermelon juice is sweet and refreshing. Not to mention the color is beautiful! The mint adds a night touch of flavor to help counter balance the sweetness of the watermelon.
Ingredients For Watermelon and Mint Juice
How to Make Watermelon Mint Juice at Home
No matter what kind of kitchen equipment you have, a blender or a juicer; you can enjoy this tasty watermelon mint juice recipe. Check out the section below to learn how to make watermelon juice with a blender and a juicer.
Make watermelon mint juice in the blender
If you don't have a juicer you can still make watermelon mint juice with a blender. Since watermelon is made up of 98% water it's easy to extract the liquid from the fiber without special equipment like a juicer. Let's learn how:
Wash the watermelon and slice it into cubes. Rinse off the mint and pluck the leaves from the woody stems.
Place the watermelon chunks and mint leaves into a blender. Run the blender on high for 30 seconds.
Then pour the mixture through a strainer or a cheese cloth. This will help sift out the fiber from the watermelon. Leaving nothing but delicious juice behind!
Can I blend the watermelon rind?
There's no denying the health benefits of juicing the watermelon rind. If you have a powerful blender you could blend a bit of the rind. Though if you have an older or less powerful blender I would avoid blending the rind.
However, if you have a juicer you can juice the rind without damaging your equipment.
How to make watermelon mint juice with a juicer
Slice the watermelon into long and narrow pieces that will fit into the juicer.
Run the watermelon and mint through the juicer. Enjoy! No straining is required since the juicer will automatically separate the liquid from the pulp.
How Long Does Watermelon Mint Juice Last?
Watermelon mint juice should be enjoyed right away. As soon as the watermelon is juiced it starts to oxidize and the vitamins minerals and enzymes will start to die.
The juice will only be edible for 24 hours if you keep it in the fridge. And if left out of the fridge it will only last for 2 hours.
Can You Freeze Watermelon Mint Juice?
Yes you can freeze watermelon mint juice for up to three months in the fridge. Just make sure not to freeze the watermelon and mint juice in a glass container. When ever you freeze a liquid like watermelon juice, always leave an inch of space at the top of the container to account for expansion as the juice freezes.
What are the Benefits of Watermelon and Mint Water?
There are tons of benefits of watermelon and mint water. Read the two sections below to learn how watermelon helps your skin and the rest of your body!
The benefits of drinking mint water include better digestion, boosts your immune system and helps fight bad breath!
What Does Watermelon and Mint Juice do for your Skin?
Did you know that watermelon is rich in vitamins A and C? Vitamin A and C are know for their skin boosting benefits. In fact when I break out I take vitamin A and it helps clear my breakouts!
Ingesting vitamin C helps increase your body's production of collagen. This helps reduce wrinkles. Not to mention that watermelon is hydrating. Keeping your body hydrated helps maintain glowing and clear skin.
What is Watermelon Juice Good For?
Drinking watermelon juice has tons of health benefits. Here are a few of them!
Watermelon juice will keep you hydrated.
Help reduce inflammation
Some of the natural plant compounds in watermelon, "including lycopene and cucurbitacin E, have possible anticancer effects."
The lycopene found in watermelon juice may help prevent heart disease by lowering cholesterol and blood pressure.
Another cool benefit of lycopene is that it may help slow down aging eyes.
The citrulline found in watermelon is known to help decrease muscle soreness and improve athletic performance.
How Can You Tell if Cut Watermelon is Spoiled?
Once a watermelon is cut it will go bad fast. Here's how you can tell if your cut watermelon is safe to eat or juice.
If you see dark spots on the flesh it's gone bad.
Slime? If the texture of the watermelon is slimy, toss it in the trash.
Should I Juice the Watermelon Rind?
Yes, you should always juice the watermelon rind. First of all, it would be a shame to throw it away. Secondly it's filled with vital nutrients and the rind will help cut down the amount of sugar in the watermelon and mint juice.
Watermelon rinds contain citrulline, a compound that is known to help improve circulation, lower blood pressure and boost your immune system.
Recipe Variations
Make it spicy: Add a shot of ginger and lime juice!
Add Chlorophyll: Put a few leaves of romaine lettuce in the juice. This is a great way to sneak in some greens. The watermelon completely masks the taste!
Make it a Margarita: Freeze the watermelon mint juice and then blend it with 2 shots of tequila.
What's the Difference Between Juice and A Smoothie?
Juice and smoothies are both popular beverages made from fruits and vegetables, but they are different in several ways:
Ingredients: Juices are made by extracting the liquid from fruits and vegetables using a juicer, while smoothies are made by blending whole fruits and vegetables with liquids like milk or yogurt.
Fiber content: Smoothies are higher in fiber than juice because the whole fruit or vegetable is used, including the fiber-rich skin and pulp. In contrast, juice typically has little to no fiber, as it is removed during the juicing process.
Nutrient density: Because smoothies use the whole fruit or vegetable, they contain more vitamins, minerals, and antioxidants than juice. However, juice can be more concentrated in certain nutrients, such as vitamin C.
Calories: Smoothies are typically higher in calories than juice because they contain more ingredients and fiber, which can add up quickly. Juice, on the other hand, can be lower in calories but may not be as filling.
Overall, both juice and smoothies can be healthy choices, but the best choice depends on your individual nutritional needs and preferences.
When is the Best Time to Drink Juice?
For the best benefit juice should be the first thing consumed in the morning aside from water, coffee or tea. So for most people that is in the morning.
Do you practice intermittent fasting? Then drink juice 30 minutes before your first meal. Or when you start to get hungry. The time will depend on your body's hunger cycle.
To learn more about why it's important to drink juice on an empty stomach read the post, "When is the Best Time to Drink Juice."
More Juice Recipes to Try
Pineapple and Cucumber Juice
This pineapple and cucumber detox juice recipe is a delicious way to give your body a boost of essential nutrients while helping clean your colon and flush toxins away. Lemon Ginger Turmeric Shot
Lemon Ginger Turmeric shots are an excellent way to support your immune system and overall health. These shots are loaded with anti-inflammatory and antioxidant properties, which can help fight off illnesses and keep your body in tip-top shape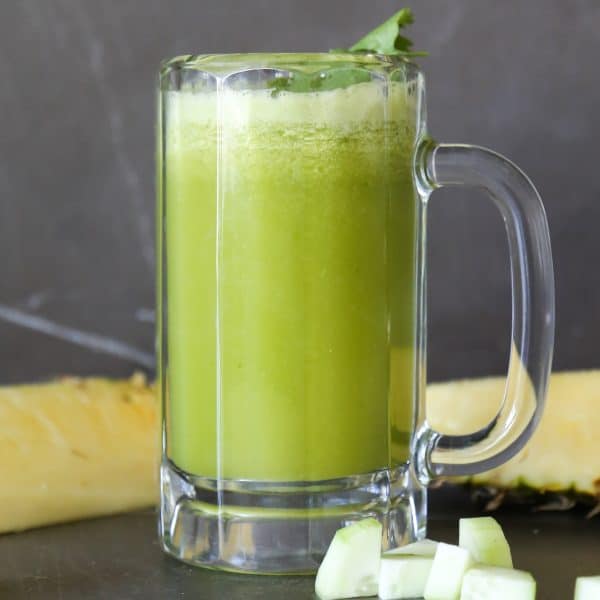 Cucumber and pineapple juice in a glass with sliced cucumber and cilantro garnishFirst Watch Kale Tonic Recipe
glass filled with lemon ginger turmeric shot with ginger and turmeric roots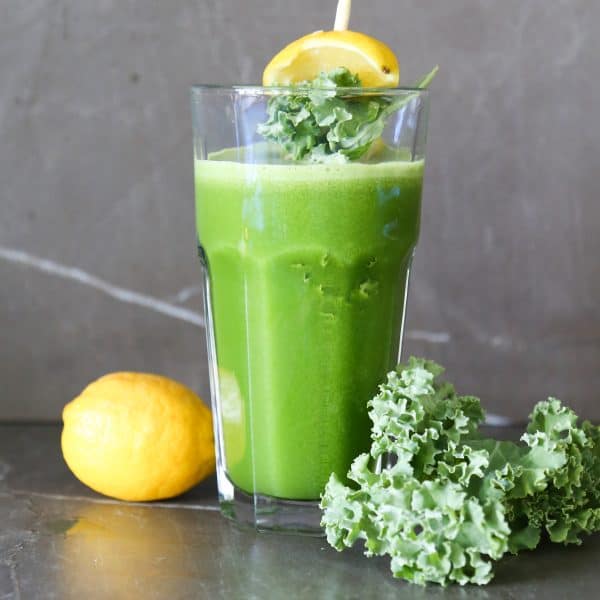 first watch kale tonic in a glass with kale and lemons
Watermelon Mint Juice Recipe
This watermelon mint juice recipe is delicious and refreshing. As the weather warms up and we begin to crave something cool and thirst-quenching, this fruity beverage is the perfect way to beat the heat. With just 3 ingredients and a juicer, you can whip up a batch of this sweet and tangy juice in no time.
5 from 1 vote
Prep Time: 5 minutesCook Time: 5 minutesTotal Time: 10 minutes
Servings: 2 8 oz
Calories: 139kcal
Equipment
Ingredients
3 C Watermelon
5 Mint Leaves
Instructions
Slice all of the watermelon into chunks narrow enough to fit in the juicer. Run the watermelon and mint through a high speed juicer and enjoy.
NutritionServing: 1cup | Calories: 139kcal | Carbohydrates: 36g | Protein: 2g | Fat: 0.5g | Saturated Fat: 0.05g | Polyunsaturated Fat: 0.2g | Monounsaturated Fat: 0.1g | Sodium: 3mg | Potassium: 402mg | Fiber: 2g | Sugar: 31g | Vitamin A: 1356IU | Vitamin C: 30mg | Calcium: 35mg | Iron: 1mg
Tried this recipe?Follow me @eatingworks or tag – show me what your cooking!
2 Ingredient Watermelon Mint Juice Recipe
Recipe details
Ingredients
---
3 C Watermelon
5 Mint Leaves
Instructions
---
Slice all of the watermelon into chunks narrow enough to fit in the juicer. Run the watermelon and mint through a high speed juicer and enjoy.

Want more details about this and other recipes? Check out more here!
Go
Published May 3rd, 2023 10:35 PM