12K Views
Lemon Blueberry Cake (eggless)
Lemon Blueberry Cake (eggless)
Lemon Blueberry Cake is a perfect and mosit cake that is full of refreshing flavors from the lemon juice and zest. The lemon glaze on the top adds the extra zing and moisture making it an awesome cake to try. The addition of blueberries cuts the lemon tart and adds the best flavor and taste to the cake.They work together so beautiful to serve and eat.
Bright blueberries and citrusy lemons make this a delightful cake to serve to any party, gathering or baby shower.Each bite has that tart, sweet and bright flavors making this your next favourite cake to try. A perfect cake to go with a fresh cup of coffee or tea.
This cake is not artificially flavored, so you donot taste the bitterness like most store bought stuff. While fresh lemon juice adds the needed tartness to the cake, fresh lemon zest adds the needed flavor. Blueberries make the cake juicy and soft.
INGREDIENTS TO MAKE LEMON BLUEBERRY BREAD
All purpose Flour : Measure your flour correctly, loosen flour from the container and fill it with a spoon. scrape the flour to the brim with the back of the knife. Do not pack the cup with flour. Save 2 tablespoons of flour to coat the blueberries.
Baking Powder : This is the leavining agent that rises the cake. Always ensure to use fresh baking powder.
Butter/ Oil : While butter makes the cake richer in taste, i use refined oil in most cakes, if storing the cake in the refrigerator butter make it hard.
Lemons : Use fresh preferably Meyer lemons as they are sweet compared to others. Sqeeze the lemon juice just before adding to the cake mix. Lemon juice sitting for long might end up being bitter.
Lemon Zest : Do not skip this as this is the most important ingredients that adds the flavor to the lemon cake and glaze. Wash you lemons thoroughly and scape only the yellow part of the skin. Do not scape the white layer, it make the zest bitter. Again zest your lemon right before adding to the cake mix.
Salt : Avoid it if using salted butter, adding salt to the cake brings out the sweet and tartness from the cake.
Sour Cream : Sour cream adds the needed moisture to the cake.
Milk : Needed wet ingredient to bind/loosen the flour, as we are not using any eggs. Use 2% or whole milk.
Sugar : Make the cake sweeter. Regular granulated sugar works fine.
Blueberries : Fresh or Frozen blueberries can be used in this recipe, prefer using fresh berries during season. Do not forget to coat the blueberies in flour. This keeps them from sinking to the bottom of the cake. If using frozen blueberies refer tips.
Confectioners Sugar : to make the lemon glaze if you prefer.
The taste and texture is same while using fresh or frozen blueberries to make this cake. Only the baking time varies betwwen the both.
There is no need to thaw frozen blueberries, just coat them in flour as you would for fresh berries.
Increase the bake time to 10 more minutes to bake the cake.
Prefer using fresh blueberries during the season and frozen in non season.
Have you milk , sour cream and butter at room temperature.
Zest lemon and squeeze the juice just before mixing to the wet ingredients.
Depending on the weight of the blueberries they sink no sometimes, so save few into the top the cake.
Preheat the oven and start mixing the cake ingredients.
While adding flour to the wet ingredients, use circular motions and mix gently. Add flour in batches to avoid lumps.
Do not open the oven door to check your often, usually the smells heavenly when it is done.All you need is to keep an eye when approching the end time.
Oven temperatures differ from one to other so add or minus 5 minus as per your oven. keep and eye as it smells done.
Let the cake cook for about 10 minutes on a cooling rack before inverting to serving tray.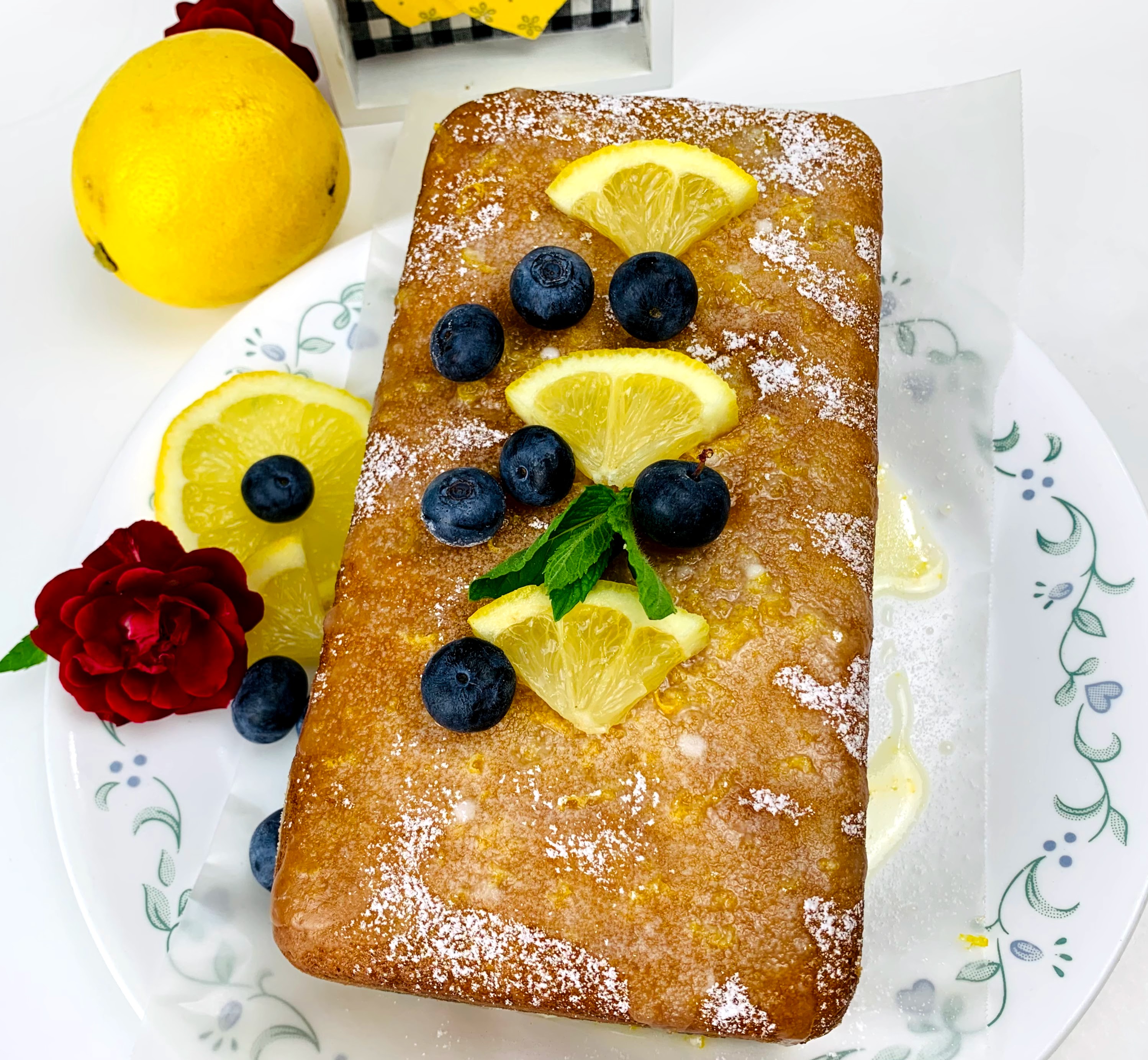 cover glaze and decorate
Lemon Blueberry Cake (eggless)
Recipe details
Ingredients
For the Cake
1¾ cup All purpose Flour (210 grams) seived and levelled
1.5 tsp Baking Powder
¾ cup Granulated Sugar (150 gms)
½ tsp Salt
½ cup Sour Cream (120 gms)
¾ cup Milk (180 ml)
⅓ cup Unsalted butter (75 gms) melted or Oil
2 tbsp Lemon Juice
Zest of a Lemon (save ½ tsp for glaze)
1 tsp Pure Vanilla optional
1 cup Blueberries fresh or frozen
To Prepare Glaze
3 tbsp Confectioner's or powdered Sugar
2 tsp Lemon Juice
½ tsp Lemon Zest
Instructions
Make Cake
Preheat the oven to 350° F.

Grease 8x½-inch or 9-inch loaf pan with nonstick spray or butter. dust with flour. Set aside.

Seive all purpose flour, baking powder and salt.

Coat blueberries with 2 tsp flour, mix gently and set aside.

In a meduim mixing bowl, add sugar, oil, milk, sour cream, lemon juice, lemon zest, and vanilla. Mix to combine well.

Add dry ingredients to wet mixture in batches and mix. Do not over mix. just combine both wet and dry ingredients together.

Add blueberies and fold in the cake mixture.

Tranasfer to greased pan and bake in preheated oven for 45-55 minutes or until a wooden skewer inserted into the center comes out clean.

Remove the cake from the oven and transfer onto a wire rack. Allow the cake to cool 10 minutes before inverting on to plate.
Prepare Glaze
While cake is cooling prepare glaze. Mix confectioner's sugar, lemon juice and lemon zest.Add few drops of lemon juice to avoid runny glaze.

when cake is completely cooled pour glaze over. Slice and Serve.
Tips
Storing Cake : Cake stays upto 3 day at room temperature and in refridgerator. Want more details about this and other recipes? Check out more here!
Go
Published August 21st, 2021 10:54 PM