165 Views
Cheesy Manicotti With Italian Sausage Tomato Sauce
It's no surprise that I love pasta and Cheesy Manicotti with Italian Sausage Tomato Sauce is a great fall/winter comfort food.
This recipe is easier than lasagna to make, at least it seems like it to me.
On my blog Living Large in A Small House, I may sometimes use affiliate links, which means a small commission is earned if you make a purchase via the link. The price will be the same whether you use the affiliate link or go directly to the vendor's website using a non-affiliate link. You can find my full Disclosure Policy HERE
Adding Meat to the Tomato Sauce
I added both sweet and hot Italian sausage to the sauce. We like the heat of the hot sausage but if that isn't for you, mild sausage or even ground beef could be substituted.
You don't have to add meat at all if you are vegetarian or would prefer a meatless meal. You can make just a simple marinara sauce.
If you have read any of my meal-planning posts, you know that Meatless Monday is a theme I use often and on regular rotation.
If you are a friend of Living Large in A Small House you have access to all of my FREE Reproducibles that are in my Resource Library. It includes some meal-planning ideas.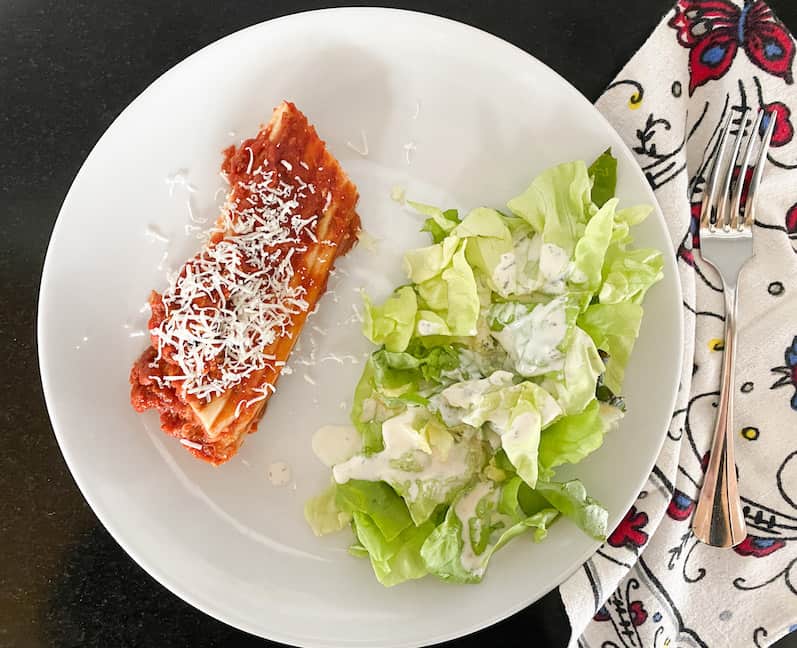 white plate with cheesy manicotti and a side salad
Cheesy Manicotti With Italian Sausage Tomato Sauce
Recipe details
Ingredients
Italian Sausage Tomato Sauce
2 tbsp olive oil
8 ounces hot italian sausage
8 ounces sweet italian sausage
1 cup chopped onion
2 tbsp minced garlic
1 6 oz. can of tomato paste
2 28-oz. can of crushed tomatoes
1 tsp sugar
2 tsp oregano
2 tsp dried basil
salt and pepper
Cheese Mixture
2 cups ricotta cheese
1-1/2 cup shredded mozzarella
1 cup grated parmesan
1 egg, lightly beaten
1/4 cup minced parsley
Pasta
1 8 oz., package manicotti
Instructions
Italian Sausage Tomato Sauce
Heat oil in a pan over medium heat and then add sausage. Add the onions and cook until translucent. Stirring the whole time so they don't burn. Then add your sausage, breaking it up with the wooden spoon. Stir until the meat is browned.

Add the garlic to the meat and onion mixture and cook for one more minute. Then add the tomato paste and cook for another minute, string the whole time. Add the crushed tomatoes, sugar, oregano, basil, 1 tsp., of salt, and 1/2 tsp., of pepper. Bring the mixture to a low boil and then turn it down to a simmer. Let simmer for 30 minutes.
Preheat oven to 375°
While the sauce is simmering, mix together all the ingredients for the cheese mixture in a large bowl and allow it to sit at room temperature so that it is easy to work with.
Pasta
Bring a pot of salted water to a boil. Cook the manicotti for just 5 minutes. You want it to be slightly softened but still holding its shape so you can fill it with cheese.

Drain into a colander. Let cool for a few minutes.
Assembling the Dish
Spray the bottom of a casserole dish or glass baking dish with cooking spray.

Put 1/2 of the tomato sauce in the bottom of a baking dish.

Using a small spoon, work the cheese mixture into the manicotti noodles. I start at one side and fill 1/2 way and then turn it and fill the other half of the noodle. Place the cheese-filled manicotti noodles over the tomato sauce.

Once you've filled enough noodles to fill your pan then cover the manicotti with the remainder of the sauce.

Cover and Bake in the oven for 40 minutes. Uncover and add more mozzarella and parmesan to the top (if desired), increase heat to 425°, and put the uncovered dish back into the oven for 10 minutes or until the cheese is bubbly and slightly browned. If you don't have a covered dish, just use aluminum foil.

Let sit for 10 minutes before serving.

Want more details about this and other recipes? Check out more here!
Go
Published November 15th, 2022 10:56 AM