70 Views
Gluten Free Apple Crumble Without Flour
Delight your taste buds with this gluten free apple crumble without flour. If you're avoiding flour or eating a gluten free diet, this apple crumble is the perfect fall dessert!
This post may contain affiliate links. As an Amazon Associate I earn from qualifying purchases at no cost to you. See my Affiliate Disclosure to read my policy and more about affiliate links.
Table of Contents
Why You'll Love this Gluten Free Apple Crumble Without Flour
This flourless gluten free apple crumble only needs 10 minutes of prep time. The crispy oats mix perfectly with the soft sweet apples. Serve it up hot with a scoop of vanilla ice cream or serve it as a cold parfait with Greek yogurt!
Gluten Free
Easy to Make
Few Ingredients
10 Min Prep
You Can Use Frozen Fruit
Perfect Holiday Dessert
Soy Free
Paleo Friendly
Vegetarian
Why Make An Apple Crumble Without Flour?
One of the reasons to make an apple crumble without flour is because you don't have any gluten free flour on hand. If you don't normally use flour it's wasteful to buy a whole bag of flour just to use the few tablespoons required to make an apple crumble.
I make apple crumbles and crisps all of the time and I can easily say that they are delicious with and without flour.
Is There Gluten in Apple Crisp?
As long as you make sure to use gluten free oats then your apple crisp will be gluten free. Oats are often processed in the same facilities that handle wheat goods. So it's possible for oats to become cross contaminated with gluten.
By using gluten free certified and labeled oats you are making sure that there is no gluten in your oats! If you are sensitive to trace amounts of gluten or have celiac disease this is important!
Are Apples Gluten Free
Are apples gluten free? The quick answer is, yes. All apples in their natural state are gluten free unless they have been processed in some way that causes them to come into contact with another gluten containing ingredient.
Ingredients You Need to Make This Flourless Apple Crisp Recipe
Apples
Coconut sugar
Butter
Oats
Cinnamon
Nutmeg
Salt
Lemon
Equipment for this Gluten Free Apple Crumble
To prepare this gluten free apple crumble without flour, you'll need the following pieces of equipment:
9-inch baking dish
Cutting board
10-inch corning ware or similar oven-safe dish
How to Make Gluten Free Apple Crumble Without Flour
Preheat your oven to 350°F (175°C).
Peel the apples and slice them into 1-inch cubes. Drizzle them with lemon juice to prevent browning.
Place the apple slices in your 10-inch Corning ware or oven-safe dish.
In a medium-sized saucepan, melt the stick of butter over low heat.
Add 1/4 cup of date sugar and the rolled oats to the melted butter, followed by the cinnamon, Almonds, nutmeg, and a pinch of salt.
Stir all the crumble topping ingredients until they form a delightful paste.
Pour the crumble mixture over the apples spreading it evenly.
Cover the dish with a lid or foil and bake for 50 minutes at 350°F (175°C).
In the last ten minutes of baking, remove the foil or lid to allow the crumble to lightly brown.
Ingredient Substitutions for Gluten Free Apple Crumble
Oats: If you don't have oats you can use instant oats. Use four packets of instant oats instead of 2 cups of rolled oats.
Coconut Sugar: While I prefer to use coconut sugar because it's healthier you can use date sugar, regular sugar or brown sugar. If you want to make it lower in sugar and carbs you could use monk fruit crystals as well!
Butter: Make this recipe vegan by replacing the butter with coconut oil or a vegan butter.
Almonds: Any chopped nut will do or leave it out all together.
Can You Freeze this Flourless Apple Crumble?
Yes you can freeze an apple crumble two ways; baked or unbaked.
To freeze your cooked gf apple crumble place it in an airtight freezer safe container and wrap the container in plastic wrap. make sure to leave a bit of room for expansion at the top of the container. Since the apples have a lot of water in them they will expand once frozen.
To freeze your uncooked apple crisp: assemble it to the point of baking and then wrap the baking dish in a thick layer of plastic wrap.
How Long Does this Apple Crumble Last?
This apple crumble will last for up to 4 days in the fridge. Over time the crumble topping will become more chewy and less crunchy.
What's the Best Way to Reheat Flourless Apple Crisp?
The best way to reheat this flourless apple crisp is in the oven. Preheat your oven to 275 degrees and place the foil covered apple crisp on the middle rack. Check to see if the apple crisp is warmed through after 20 minutes.
If you need the apple crumble warmed up in a jiffy use the microwave instead. You can reheat the apple crumble right in the baking container as long as it's microwave safe. Place the apple crisp in the oven and cover it with a paper towel for 3 minutes.
You'll know that the crisp is warmed up when the apples start to bubble.
If you reheat the crumble in the microwave the crumble topping will become more chewy but if you reheat it in the oven then the topping will become more crunchy again.
Tips to Make the Best Apple Crisp
Cut all of the apples in the same size.
Don't over stuff your baking dish. It will bubble over.
You'll know the apple crisp is done when the liquid from the apples starts to bubble. This is important because the crumble topping often gets hard and crunchy before the apples underneath it are cooked through.
Make it Vegan Nut Free and Dairy Free!
If you or someone you are cooking for is vegan or doesn't eat dairy you can still make this flourless apple crumble for them. All you have to do is swap out the butter for kite hill vegan butter or coconut oil.
To make this flourless apple crisp nut free all you have to do is leave out the chopped almonds. You can swap them out for raisins or dried cranberries!
Serving Suggestions
The best way to serve up pipping hot apple crisp is with a scoop of your favorite vanilla ice cream. I love using coconut ice cream because it's creamy and easier to digest then regular dairy ice cream.
If you're serving the crisp cold it tastes best when layered with greek yogurt and some fresh banana as a parfait.
Are Oats Gluten Free?
While oats are naturally gluten free they are often processed in the same facilities as wheat. Which opens the oats up to be cross contaminated with gluten. To ensure that your oats are gluten free only buy oats that are labeled gluten free. This means that these oats weren't processed in a facility that also makes wheat products.
Recipe Variations
Nutty Delight: Add a generous handful of chopped pecans, walnuts, or hazelnuts to the crumble topping for an extra nutty flavor and delightful crunch.
Spiced Up: Boost the cozy factor by adding a pinch of ginger or a sprinkle of cardamom to the apples. It'll give your crumble a warm and aromatic twist.
Vegan Vibes: Make the crumble vegan-friendly by replacing the butter with coconut oil.
Caramel Apple: Drizzle some gooey caramel sauce over the fruit before adding the crumble topping for an indulgent treat that's hard to resist..
Chai-Spiced Crumble: Infuse your crumble topping with the warming flavors of chai by adding a touch of ground cloves, allspice, and black pepper.
Why Is My Apple Crisp Not Getting Crispy?
There are several reasons why an apple crisp might not achieve the desired level of crispiness.
Excess Moisture in Fruit Filling: If the fruit filling has too much moisture, it can prevent the topping from becoming crispy. High-water-content fruits like berries, overripe fruits, or excessive juiciness can lead to this problem. Always use a thicker baking fruit like apples or pairs along with juicy fruits like berries.
Under-baking: If the apple crisp is not baked long enough, the topping might not have sufficient time to crisp up and turn golden brown. You'll know the crisp is done baking when the apples are bubbling.
Topping Thickness: The thickness of the crumble topping can affect its crispiness. If the topping layer is too thick, the heat might not penetrate evenly, leaving the interior soft instead of crispy. Try to make the topping 1-1.5 inches thick for maximum crispiness.
Not enough Butter or Coconut Oil: The fat from butter or coconut oil in the topping is crucial for creating a crisp texture. If the topping doesn't have enough butter, it won't brown and become crispy as it should.
Using Large Fruit Chunks: Cutting the fruit into large chunks might release more juices during baking, preventing the topping from crisping up. Smaller, evenly sized fruit pieces are better for even cooking.
Lack of Sweetener: The sugar in the topping not only adds sweetness but also contributes to browning and crispiness. If there's not enough sugar, the topping might remain pale and soft.
Not Preheating the Oven: Starting with a preheated oven is crucial for achieving the proper baking environment.
Not Spreading the Topping Evenly: Uneven distribution of the topping can lead to some areas being undercooked, resulting in uneven crispiness.
Using Old Oats or Nuts: The freshness of oats and nuts matters. If they are stale, they might not provide the desired texture and crispiness.
Steam Accumulation: Covering the crisp with foil or a lid while baking can trap steam and moisture, preventing the topping from crisping.
Can I Make this Flourless Apple Crumble Ahead of Time?
Yes you can make this flourless apple crumble ahead of time in two ways.
You can bake the apple crisp fully and store it in the baking dish for up to 3 days. I don't recommend baking this crisp ahead of time because the topping will become chewy instead of crunchy by the time you serve it.
The best way to make this gluten free apple crumble recipe ahead of time is to assemble it up to the point of baking and cover it with plastic wrap. Then all you have to do is pop it into the oven one hour before you're ready to serve it.
Which Type of Apples Are Best for This Gluten Free Apple Crumble?
Since an apple crumble gets baked for a long time you want to pick an apple thats firm enough to hold its shape throughout the baking process. Some of these apples according to Betty Crocker include:
Granny Smith
Fuji
Gala
Cortland
Honey Gold
Haralson
Newtown Pippin
What's the Difference Between a Crisp and a Crumble
Technically there is a difference between a crisp and a crumble recipe. However most people (myself included) use the terms interchangeably. The difference between a crumble and a crisp lies in the topping.
Crisps usually have oats and nuts in the toppings while crumbles omit the oats and nuts. So the topping on a crumble is more streusel like.
How Do You Know When The Flourless Apple Crumble is Done Baking?
It can be tricky to tell if your apple crumble is done baking or not. The truth is that the oat topping can get hard and crunchy before the apples underneath are done cooking.
That's why it's good to make sure that the juice from the apples are bubbling on the sides of the pan. That's how you'll know it's ready. Not to mention the smell of baked apples and cinnamon wafting through your house!
More Gluten Free Desserts to Try
Chocolatey Keto Haystack Cookies
Sugar cravings on a keto diet? These dark chocolate keto haystack cookies will hit the spot. Whip them up in five minutes!Chocolate Dipped No Bake Pumpkin Cookies
These gluten free no bake pumpkin cookies are perfect for satisfying your pumpkin spice cravings without turning on your oven.
keto chocolate haystackChocolate Bento Cake
cookie sheet full of no bake pumpkin cookies dipped in chocolateApple Berry Crumble with Healthy Crumble Topping
Delight your taste buds with this easy-to-make Apple Berry Crumble featuring a healthy crumble topping, that also happens to be gluten free! This perfect fall dessert only needs 10 minutes of prep time.
chocolate bento cake on a a plate with a forkVegan Tahini Cookies
These little cookies are keto, gluten free, and no baking required!
apple and berry cobbler with ice creamDark Chocolate Brazil Nuts (Keto and Gluten Free)
You'll adore these chocolate Brazil nuts because have a rich and nutty flavor with a crunchy texture. They're a healthy snack that still tastes like an indulgent treat. Whip these nuts up in just ten minute with only 4 ingredients, the perfect lazy keto snack!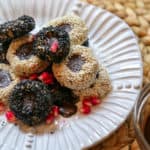 vegan tahini cookies on a plate
More Gluten Free Apple Recipes to Try
The best gluten free apple recipes you'll find on the internet, just in time for the start of fall apple season.
chocolate covered brazil nuts on a cutting board
Gluten Free Apple Crumble Without Flour
Recipe details
Ingredients
---
3 apples cubed
1 Cup Raspberries
1 Lemon juiced
For the Healthy Crumble Topping
1/2 Cup Coconut Sugar
1 Stick Butter
2 C Rolled Oats
1/2 tsp Cinnamon
1/4 tsp nutmeg
1 pinch Salt
2 tbsp Gluten Free Flour
2 tbsp Chopped Almonds
Instructions
---
Pre-heat the oven to 350. Peel apples and slice into 1 inch cubes. Drizzle with lemon juice to prevent browning. Place apples in a 10 inch Corning wear.

In a medium sized sauce pan melt butter. . Add 1/2 cup of brown sugar, cinnamon, nutmeg, salt, gluten free flour and chopped almonds and the rolled oats. Combine all of the ingredients until a paste is formed. Remove from the heat. Pour the crumble mixture on top of the apples and spread it evenly across.

Cover with lid or foil Bake for 50 minutes. Remove the foil or lid in the last ten minutes of baking.

Want more details about this and other recipes? Check out more here!
Go
Published September 1st, 2023 1:12 PM