36 Views
Today, I'm excited to share with you my easy recipe for lemon dill dressing. This zesty and herbaceous dressing is a fantastic addition to any salad, roasted vegetables, or even as a dip for your favorite snacks.
With just 4 ingredients and 5 minutes of your time, you can whip up a batch of this tangy dressing that will elevate your dishes to a whole new level.
This post may contain affiliate links. As an Amazon Associate I earnfrom qualifying purchases at no cost to you. See my Affiliate Disclosure to read my policy and more about affiliate links.
Table of Contents
Why You'll Love This Lemon Dill Dressing Recipe
This lemon dill dressing recipe is a huge hit with anyone who loves Mediterranean cuisine. It's perfect for light summer pasta salads, green salads, fish and more.
Gluten Free
Vegetarian
Keto Friendly
Low Carb
Soy Free
Nut Free
Paleo Friendly
Easy to Make
Quick
Ingredients for Lemon Dill Dressing
Lemon
Greek Yogurt (I use goat or sheep yogurt)
Agave
Salt
Pepper
How to Make Lemon and Dill Dressing At Home
This recipe is so easy you can barely even call it a recipe. Here's what you have to do:
Juice the lemons. In a bowl mix the lemon juice, chopped dill, yogurt, agave, salt and pepper. Transfer to a reusable salad dressing container and enjoy.
How Long Does Dill Dressing Last?
This lemon dill dressing recipe will last for up to 5 days in the fridge. However, it's so delicious that it rarely lasts that long in my household!
Can You Freeze Lemon and Dill Dressing?
No you cannot freeze this lemon and dill dressing because the main ingredient is yogurt. You cannot freeze yogurt because the texture will change. Yogurt separates when it's frozen.
Tips to Make Lemon Dressing With Fresh Dill
Make sure that you don't put any of the thick stems from the dill in the dressing. They will make the dressing more bitter.
Use a citrus juicer so that you don't get any lemon seeds into the yogurt. Using a citrus juicer will keep your hands clean and prevent the lemon juice from burning any small cuts on your hands.
Use fresh ground black pepper for extra flavor.
Make sure to use unflavored Greek yogurt. Lots of companies use vanilla to flavor the yogurt. I've accidentally used vanilla yogurt for savory sauces and the result was awful. So make sure to read the fine print!
For a stronger dill flavor, you can add an extra tablespoon of chopped dill to the dressing.
Adjust the sweetness level by adding more or less agave, depending on your taste preferences.
Lemon and Dill Dressing Ingredient Substitutions
Lemons: If you don't have lemons on hand, you can use limes or bottled lemon juice as a substitute. However, fresh lemon juice will yield the best flavor. Not to mention that lemon juice has preservatives in it. So bottled lemon juice isn't nearly as healthy as fresh.
Dill: If you're not a fan of dill, you can replace it with fresh parsley or cilantro for a different herbaceous twist.
Greek Yogurt: If you prefer a dairy-free option, you can substitute Greek yogurt with coconut yogurt or a non-dairy sour cream alternative. If you can't find Greek style yogurt you can also use regular plain and unsweetened yogurt.
Agave: If you don't have agave, you can use honey or maple syrup as a sweetener substitute.
How to Use Lemon & Dill Dressing
Salad Dressing: Drizzle the dressing over a crisp green salad, combining the flavors of fresh vegetables with the zesty tang of lemon and dill.
Roasted Vegetables: Toss roasted vegetables in this dressing to add a burst of flavor and creaminess.
Dipping Sauce: Use the dressing as a dip for fresh veggies, pita bread, or even chicken tenders.
Sandwich Spread: Slather it onto sandwiches or wraps for a delightful burst of tanginess.
Recipe Variations for Lemon & Dill Dressing Recipe
While this recipe is already fabulous on its own, there's always room for experimentation. Here are a few variations you can try:
Garlic Twist: Add a minced garlic clove or two to infuse the dressing with a garlicky kick.
Spicy Kick: Incorporate a dash of cayenne pepper or a few drops of hot sauce to give the dressing a spicy edge.
Make it A Vinaigrette: Use only two tablespoons of Greek yogurt and 3/4 cup of olive oil to make a lemon dill vinaigrette instead!
Common Questions and Answers
Is this lemon dill dressing gluten free?
Yes, luckily this lemon dill dressing is naturally gluten free! All of the ingredients come from dairy or plants which are gluten free. Gluten is only found in wheat and byproducts of wheat.
Can you eat dill dressing on keto?
Absolutely! This Lemon Dill Dressing is keto-friendly since it contains low-carb ingredients like lemon juice, dill, Greek yogurt, and natural sweeteners. One two tablespoon serving of lemon dill dressing has only 25 calories and 4 grams of carbs!
The original recipe calls for Greek yogurt, which is dairy-based. However, you can easily make this dressing dairy-free by substituting the Greek yogurt with a non-dairy yogurt made from almonds, cashews or coconut.
You could also use a tofu based yogurt but I don't like to use soy since it causes elevated estrogen levels and increased mucus production.
Can you make this lemon dill dressing vegan?
Yes, you can make this dressing vegan by using a plant-based Greek yogurt or sour cream substitute. Additionally, ensure that the sweetener you use is vegan-friendly, such as agave or maple syrup.
More Healthy Dressing Recipes
If you love this lemon dill dressing recipe, here are more popular salad dressings from Eating Works!
Creamy Vegan Italian Dressing Recipe
This vegan Italian salad dressing recipe is easy to make with simple ingredients. Packed with flavor, it's a great replacement for store-bought options. Free from dairy, gluten, soy and grains.Creamy Balsamic Dressing Recipe
This creamy balsamic dressing recipe is sweet, tangy, and incredibly rich It can be whipped up in 5 minutes with zero effort! You throw the ingredients in a blender and its done in a second.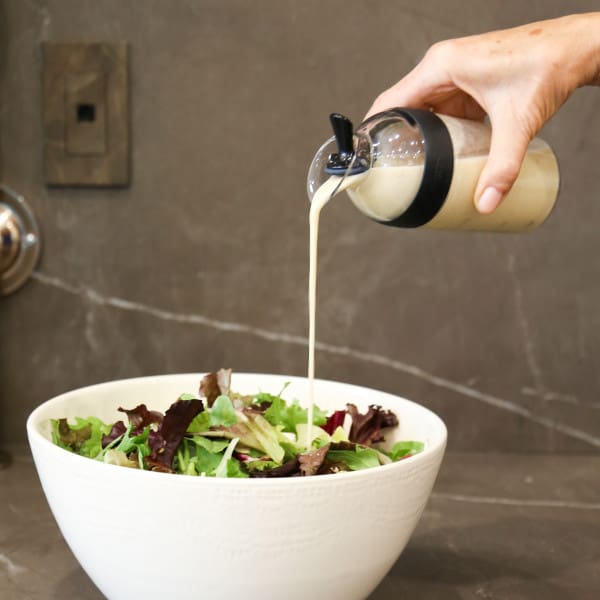 vegan Italian dressing recipe pouring into a salad in a bowlHealthy Caesar Salad Dressing Recipe
This healthy Caesar salad dressing recipe is made without anchovies so it's vegan and gluten free! You'll never believe how healthy it is.
lemon dill dressing, Easy Lemon Dill DressingCarrot Ginger Miso Dressing
This 5 ingredient ginger miso dressing is better than the restaurant! It's thick and creamy with just the right amount of saltiness and sweetness. Pour it over salads or use it as a dip for veggies!
healthy caesar salad dressing recipe in a white bowl with romaine lettuceVegan Avocado Dressing Recipe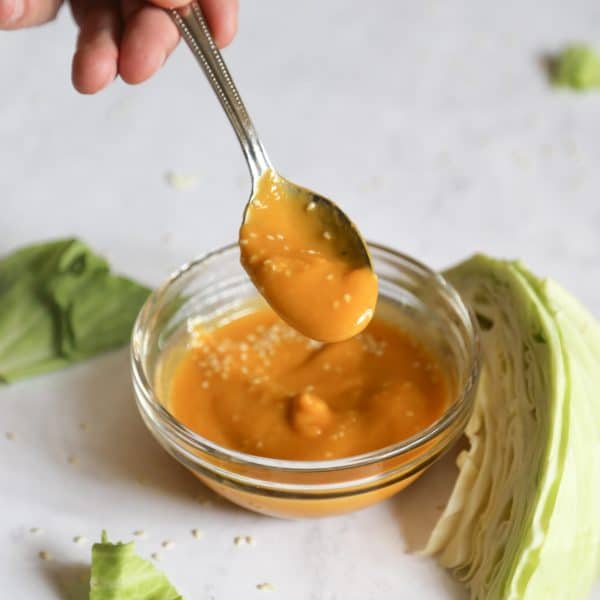 Carrot ginger miso dressing in a clear bowl and on a spoonEasy Honey Lime Dressing Recipe
This dressing is perfect for adding a zesty and sweet touch to your salads, and it's also a great option for marinating chicken or fish. Plus, it's super easy to make and requires only a few simple ingredients. It's gluten free and keto friendly!
lemon dill dressing, Easy Lemon Dill Dressing
honey lime dressing in a reusable salad container with cilantro
Easy Lemon Dill Dressing
Recipe details
Ingredients
---
1 1/2 Lemons juiced
1 Cup Greek Yogurt
3 tbsp Fresh Dill chopped
1 tsp Agave
1 tsp Salt
1 pinch Pepper
Instructions
---
Mix all ingredients in a bowl. Transfer to a reusable salad dressing container and enjoy.
Tips
This dressing will last for up to 5 days in the fridge.

Want more details about this and other recipes? Check out more here!
Go
Published July 7th, 2023 7:19 AM