91 Views
Keto Vegan Avocado Dressing Recipe: Gluten Free
This keto vegan avocado dressing recipe is going to change your life! It has only a handful of ingredients and takes seconds to whip up in the blender. Creamy, decadent zesty and healthy you won't believe that this dressing is dairy free and so good for you. Use it to top salads, garnish grilled salmon, slather it on sandwiches and more!
This post may contain affiliate links. As an Amazon Associate I earn from qualifying purchases at no cost to you. See my Affiliate Disclosure to read my policy and more about affiliate links.
Why You'll Love This Vegan Avocado Dressing Recipe
I've been completely addicted to this vegan avocado dressing recipe. I made it for a friend while he was in town and he was obsessed. We must have had avocado dressing on a spinach salad with feta three days in a row. Another two friends tried the dressing and went out to buy the ingredients that day. One still makes it while the other bought a store bought version from Trader Jo's.
Vegan
Only 4 Ingredients
Made in Minutes
Gluten Free
Keto Friendly
Low in Carbs
Nut Free
Soy Free
Dairy Free
Great Source of Healthy Fats
What is Avocado Dressing Made of?
Avocado
Lemon
Water
Salt
Cilantro
How to Make Vegan Avocado Dressing in Minutes!
Step 1: Slice the avocado and remove the pit. Scoop the avocado into the blender. Twist off 1 handful of cilantro and place it in the blender with the salt and water.
Step 2: Blend until ingredients are smooth. Add some cracked pepper and adjust seasonings to taste. Transfer the blender to a reusable dressing container.
Special Equipment to Make Making Avocado Dressing Easier
Oxo Good Grips Reusable Dressing Storage Container: I use this container for every homemade dressing recipe I have. I love it!
Vitamix blender: I used my Vitamix for this recipe but lots of people use the food processor instead. I think you can use which every appliance you have on hand. If you don't have any blending appliance you can use a potato masher, fork or whisk to manually mix the ingredients. It will take longer but the end result will be just as tasty.
Sharp knife
Citrus juicer: If you blend seeds from the lemon into vegan avocado dressing it will make it taste bitter. So a citrus juicer will prevent seeds from slipping into the blender.
Is This Vegan Avocado Dressing Gluten Free?
Yes, this vegan avocado dressing is gluten free! Avocados are naturally gluten free since they're a fruit. Gluten comes from wheat and products derived from wheat flour. The additional ingredients are also gluten free. Water, olive oil, lemon juice and cilantro are all plant based and naturally free from gluten.
Is Olive Oil Gluten Free?
To learn more about how to tell if your olive oil is gluten free, best brands and to learn a neat trick to see if your olive oil is real check out this post. Spoiler, most olive oil you buy in the store is fake! So don't get scammed.
Common Questions and Answers
Is Guacamole Keto Friendly and Low in Carbs?
Yes, guacamole is keto friendly and low in carbohydrates making it the perfect food for anyone on a keto diet. One half cup of guacamole has 12 total carbs and 8 grams of fiber which means that half a cup of guacamole has 4 grams of net carbs. For more information about guacamole and keto check out the post linked above!
How Do You Properly Cut an Avocado?
Using a sharp chef's knife cut through the middle lengthwise until your blade hits a pit. Once your knife makes contact with the pit, hold the avocado and carefully rotate your blade around the pit, slicing the flesh. Once you cut all the away around the avocado, remove the blade. Hold the avocado between your hands and twist it.
This will separate the two halves. Hold the half with the pit still in it and gently tap it with your knife. Once the knife is lodged in the pit twist the avocado and the pit will detach. Using your knuckle, knock the pit off of the edge of the blade.
Should Avocados Be Refrigerated?
Avocados should only be refrigerated after they're ripe or they have been sliced. Once avocados are ripe they go bad pretty quickly. The cold air in the refrigerator will slow down the ripening process.
Conversely. If your avocados are not ripe yet you shouldn't put them in the refrigerator. Doing so will make it take even longer for your avocados to ripen.
How to Keep Avocados From Turning Brown?
Even though it's safe to eat brown avocado (as long as it doesn't smell spoiled) it's not the most appetizing color to look at. When you think of avocados you think of vibrant green, and not brown slop! Here are my top tricks you can use to keep your avocado greener longer.
Tip
Use the Pits
Don't throw out the pits from the avocados, and place them back into the avocado dressing when its done the pits help keep the avocado dressing from turning brown right away.
Tip
Use Plenty of Acid
The natural acids present in citrus fruits like lemons inhibit polyphenols from reacting with oxygen, slowing down the rate of oxidization. using lime will help avocado last up to 3 days in the fridge.
Tip The
Water Lock Method
This method sounds weird and gross but it works. Put water on top of your avocado dressing, the water acts as a barrier between the air and avocado.
This watery blockade prevents oxygen from reaching the guacamole. Simply dump off the water before serving the dressing.
Tip Lemon or Lime Lock
Add a thin layer of lime or lemon juice to the guacamole to prevent it from going brown.
Can You Buy Chick fil A Avocado Lime Ranch Dressing in the Store?
Yes, according to Southern Living Magazine you can now buy lots of the dressings at Chick-fil-A in the store including the avocado lime ranch dressing. Stores that sell Chick-fil-A's bottled dressings include Walmart, Kroger and Meijer.
Chick Fil A Gluten Free Menu Guide
For more information on gluten free dining options at Chick-fil-A, check out this comprehensive menu guide!
How Can I Lower The Fat of Avocado Dressing?
The fat in vegan avocado dressing is healthy so I don't think you need to worry about lowering it. A low fat diet doesn't help you loose fat. A diet with plenty of high quality fats will keep you satisfied longer. Helping you avoid binges. But if you must, you can lower the fat content by swapping out the olive oil for more water.
How to Make Avocados Last Longer?
The best way to make avocado last longer is to put it in the fridge which will slow down the ripening process.
How to Make Avocados Ripen Faster?
If you want your avocados to ripen a bit faster the best way to do it is to put it in a paper bag. The paper bag will trap the ethylene gas that the fruit gives off as it ripens. Trapping the gas will saturate the avocado with the gas which signals for it to ripen faster.
The presence of ethylene gas triggers fruit to ripen. Usually when fruit gives off ethylene gas it triggers the fruit around it to start to ripen too. By placing the avocado in a bag you are essentially tricking it into thinking that it's surrounded by ripe avocados.
How to Tell When An Avocado is Ripe?
There are two sure fire ways to pick the perfectly ripe avocado:
When an avocado is picked, the stem is trimmed, leaving a small nub that looks like a tiny brown button. The best way to know when an avocado is perfect for making guacamole is when the nub on the top of the avocado pops off easily. When the avocados are under ripe the nub will not come off. But as soon as it's ripe and ready to go, the nub will fall off with the flick of a finger.
Another way to tell if an avocado is ripe is to press the flesh of the avocado with your thumb. A ripe avocado will have firm flesh with a slight give. If the avocado is hard it's not ripe and if it's very soft it's gone bad.
Nutrition Facts For This Vegan Avocado Dressing Recipe
Serving Size: 2 tablespoons (tbsp) and 6 servings per recipe
Calories: 59
Carbohydrates: 5g
Protein: 1g
Fat: 5g
Potassium: 191mg
Fiber: 3g
Sugar: 1g
Vitamin A: 98IU
Vitamin C: 13mg
Calcium: 9mg
Iron: 0.3mg
More Recipes with Avocado to Try
Tasty Guacamole Recipe Without Tomatoes
This guacamole is so simple, healthy and tomato free!Vegan Stuffed Sweet Potato
This creamy sweet potato is stuffed with black bean and corn salsa and topped with yummy guacamole and cashew sour cream. Vegan, grain free, plant-based and gluten free
keto guacamole in an avocadoRainbow Salad with Vegan Green Goddess Dressing
Taste the rainbow with this Rainbow Salad with creamy Vegan Green Goddess Dressing
vegan stuffed sweet potatoesSpicy Green Tahini Sauce
Creamy Zesty and Bright! This simple sauce takes only a few minutes to whip up and goes with everything.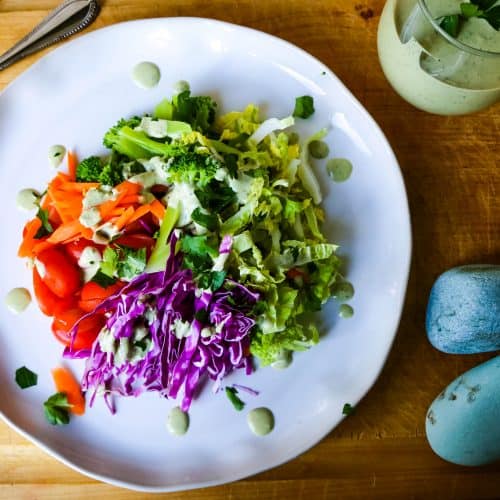 rainbow salad and green goddess dressing on a plateHealthy Guacamole with Roasted Red Peppers
A refreshing twist on a healthy classic. This guacamole is filled with sweet and smokey notes from the roasted red peppers and cumin. Raw Vegan and Ultra healthy you can enjoy this guac without the guilt!
green tahini sauce on a spoon
Avocado cilantro lime sauce google web story!
Healthy guacamole
Keto Vegan Avocado Dressing Recipe: Gluten Free
Recipe details
Ingredients
---
1 Avocado sliced (1 cup)
1 handful Cilantro 1 cup packed
1 tsp Sea Salt
1 Lemon juiced
Instructions
---
Slice the avocado and remove the pit. Scoop the avocado into the blender. Twist off 1 handful of cilantro and place it in the blender with the salt and water.

Blend until ingredients are smooth. Add some cracked pepper and adjust seasonings to taste. Transfer the blender to a reusable dressing container.

Want more details about this and other recipes? Check out more here!
Go
Published March 3rd, 2023 7:27 AM